Deux savoir-faire d'exception sur porcelaine
Nos pièces uniques en porcelaine façonnées et peintes à la main
Choosing a Maison Manoï creation means treating yourself to an exceptional, authentic and high-quality piece.
Our creations are made in small series in a family workshop where only a few craftsmen are trained to reproduce by hand under glaze the decorations of our Painter.
Under-enamel painting is an ancestral technique, it makes it possible to fix the decorations under an enamel which will sublimate their brilliance and make their decorations unalterable.
Our tableware, delicate and timeless, preserves an ancestral and lasting know-how.
The decorations, first drawn by the artist in a small workshop in the Bugey region, are then made freehand on porcelain creations previously shaped by hand.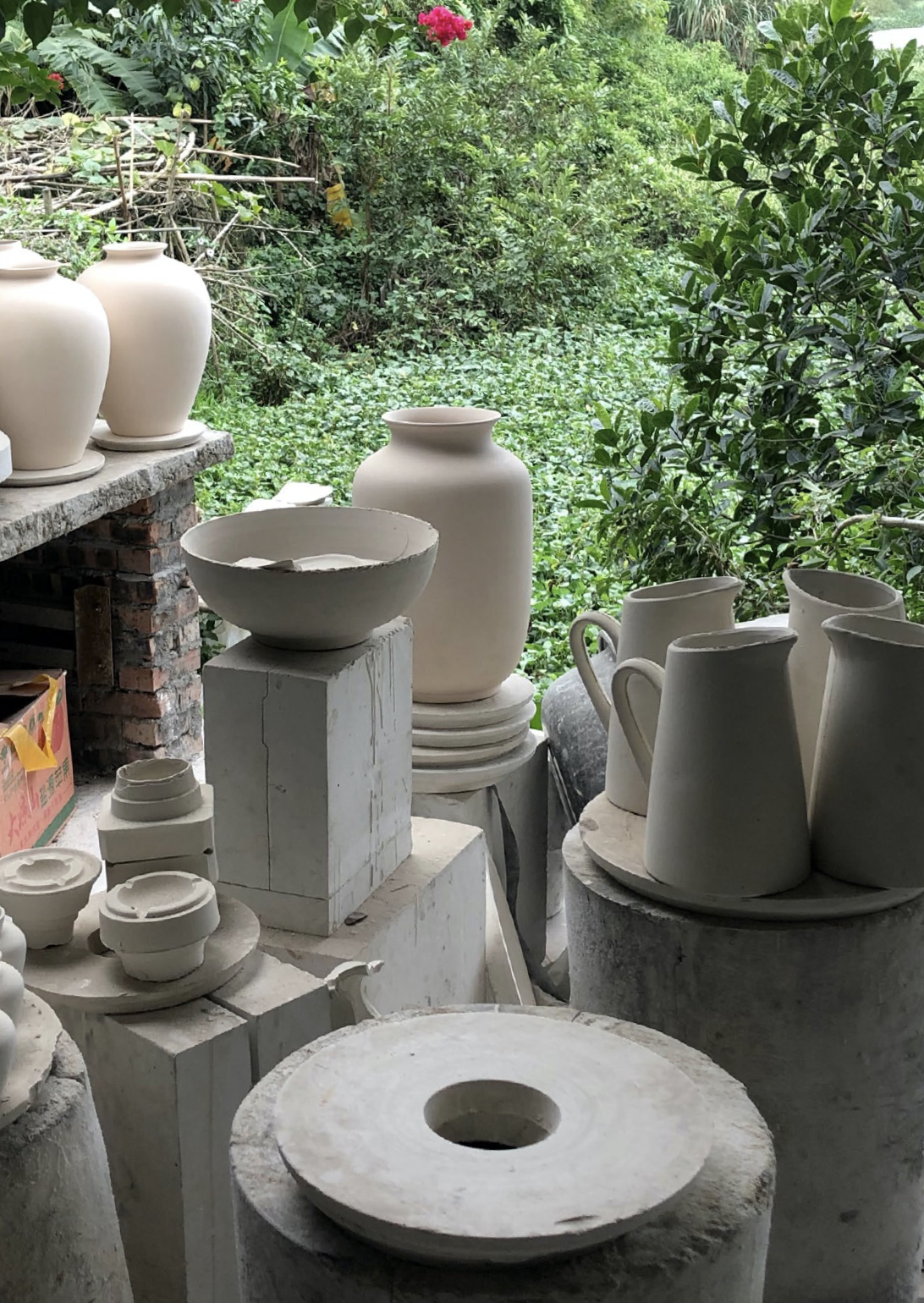 Modeling workshop
We have our own modeling workshop, which allows us to control the manufacturing of our models, each piece is designed and then shaped using custom-made plaster moulds.
In this way we can perfectly adapt the decorations created by our painter with the shape of our hand-crafted creations.
Each manufacturing step is carried out by hand, there is no industrialization in our creation and manufacturing process.
The porcelain is of high quality, its finish is lustrous, its touch is dense and silky at the same time.
A plate made using our underglaze hand-painting technique can be passed down from generation to generation.
"The underglaze decorations are fixed for life, nothing can alter them, our freehand painted models are all unique & imperfect, their porcelain is dense and worked, the brilliance of the decorations is unparalleled."

This technique consists of painting after the first firing of the porcelain.
Error is not allowed with this manufacturing choice, the craftsmen who make our creations are trained over generations.
The enamelling takes place after the decorations have been made, then undergo a second firing "over a high fire".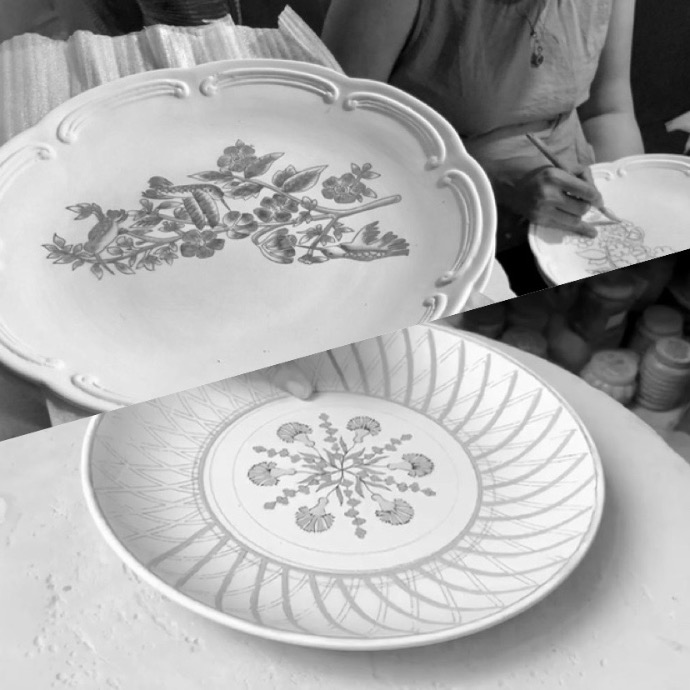 L'Atelier de peinture à la main
To date, four collections are made from pure porcelain and made using traditional craftsmanship from the village of Bat Tràng.
Entirely made by hand and painted freehand under glaze, they require a special technique that as been passed down from generation to generation for centuries.
The Village of Bát Tràng, on the banks of the Red River, is world-renowned for the high quality of its porcelain and for their ancestral mastery in the art of freehand painting.
The hand-painted collections all have different and small imperfections, which is part of the charm as each unique brushstroke has its own story.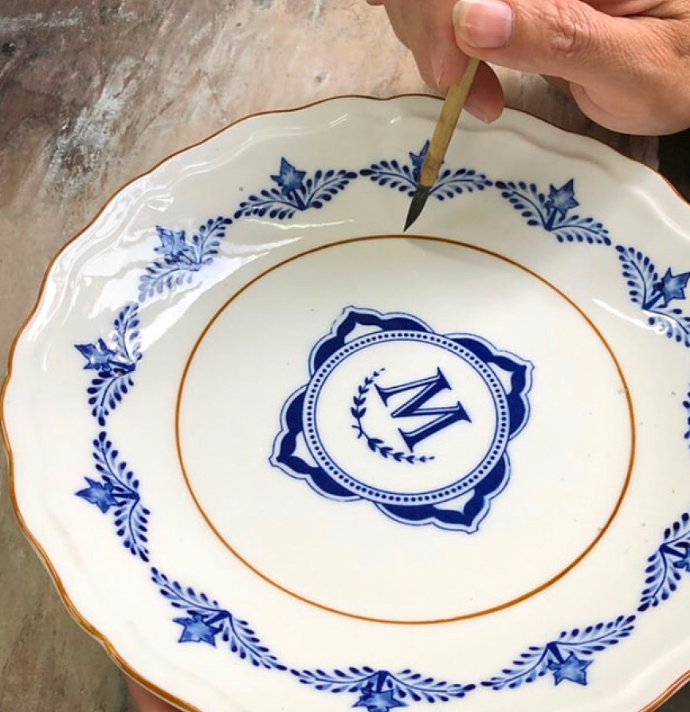 Gilding
They are made after the second firing over a large fire.
The spinning technique that allows the realization of the gold net on the edge of the plate is intended to magnify the object.
Gold spinning is a specialty that also requires solid experience to master its technique.
Its production is mastered by a single craftsman in our workshop.
The gold net captures the light to enhance the white of the porcelain.
Our Limoges collections produced in chromolithography
Choosing a Maison Manoï "Limoges" creation means treating yourself to an exceptional and authentic piece.
Limoges porcelain is world famous and known for its high quality, translucency and finesse.
The porcelain is immaculate white, extremely fine.
And the chromolithography technique allows precision in decorations and colors without common measure. Our creations are produced in small series.
Our coat of arms, the painter's signature and the origin of our porcelain are written on the back of each of our creations.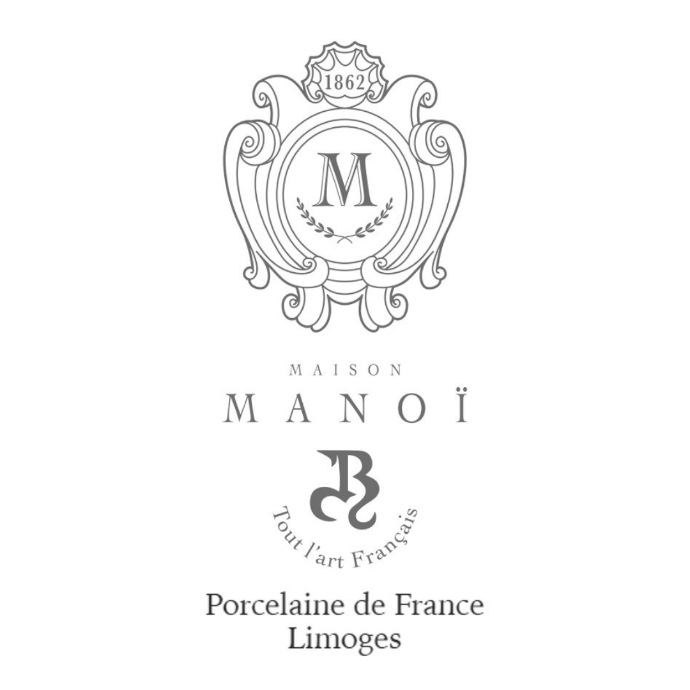 Limoges - France
As a French house, creating collections in Limoges in French porcelain seemed obvious to us. It was for Maison Manoï to highlight this world famous French industry.
In Limoges, the craftsmen reproduce with unparalleled precision the decors of the period but also the decors of our painter.
The decorations are made by chromolithography on Limoges porcelain.

Our Limoges collections have the IG : Prestige Marker, only porcelain pieces marked Porcelaine de Limoges are entirely decorated in Limoges.
This label allows us to promote our products and the extraordinary know-how of our Limougeauds employees.
Link to website IG Porcelaine de Limoges