Hand painted porcelain dinner plate "The Birds" ⌀ 26 cm
Hand painted porcelain dinner plate "The Birds" ⌀ 26 cm
Plate adorned with gilding
Hand-painted porcelain
Porcelain dinner plate
Hand-painted floral motif for a unique finish
Diameter of 26 cm
Suitable for daily use or special occasions
Raised relief ornamentation in mold patterns
Unique piece
Gold trim
Glazed finish
Packaged in a Maison Manoï gift box
Weight 900 grams
This beautiful Dinner plate entirely hand painted This beautiful dinner plate is made of high-quality porcelain and has been hand-painted by skilled artisans. Its delicate floral pattern is perfect for adding charm to your dining table. This plate can also be used as a presentation plate for your appetizers, making it an excellent option for family dinners or dinner parties with friends..
The designs in this collection were created from the childhood memories of our painter, Jean-Paul Bodet.. 
His mother and grandfather were passionate about birds, especially hummingbirds.. 
The short film  Maison  of our website shows the origin of these designs.

These hand-painted artisanal plates are a beautiful gift idea that will enhance your festive tables. They are a beautiful table object to offer as a gift or to treat yourself.
 
The hand-painted floral motif gives each plate a unique and original finish.
The high-quality porcelain ensures long-term durability, and the large capacity of the plate allows for a wide variety of dishes.
It is suitable for daily use or for special occasions.
 
The gold accents around the rim are not compatible with intensive dishwasher use or microwave use.

The hand-painted designs under the glaze provide a slight relief, making each piece unique. The imperfect texture of the material adds a unique and singular charm to each of our creations.
 
The Maison Manoï coat of arms is stamped on the back of each model, along with the painter's signature.

The packaging is done in Maison Manoï gift boxes that include two plates. The price is indicated for one plate.
Un service client à votre écoute
Livraison gratuite en France à partir de 100 euros d'achat 




Are you looking for a  beautiful  porcelain hand painted plate  ? 
This gorgeous porcelain plate is enhanced by a few hand-painted strokes, which give it undeniable charm.. 
It features a lovely floral motif, painted by hand with great attention to detail.​
This collection of hand-painted porcelain is a true feast for the eyes and the palate. Each plate has been handcrafted, making it a unique piece. Fans of hand-painted and pretty tableware will be delighted to receive this porcelain plate.
Its distinctive shape and motif adorned with gilding make it an exceptional creation for a very special gift. The hand-painting technique used to create this porcelain plate is ancient and demanding, carried out with precision using a brush under glaze on high-quality porcelain.
This porcelain plate will be delivered in a set of two in a beautiful Maison Manoï gift box, adding an extra touch of delicacy to your gift. 
Offer this hand-painted porcelain plate to a loved one or to yourself to add a touch of beauty and elegance to your table.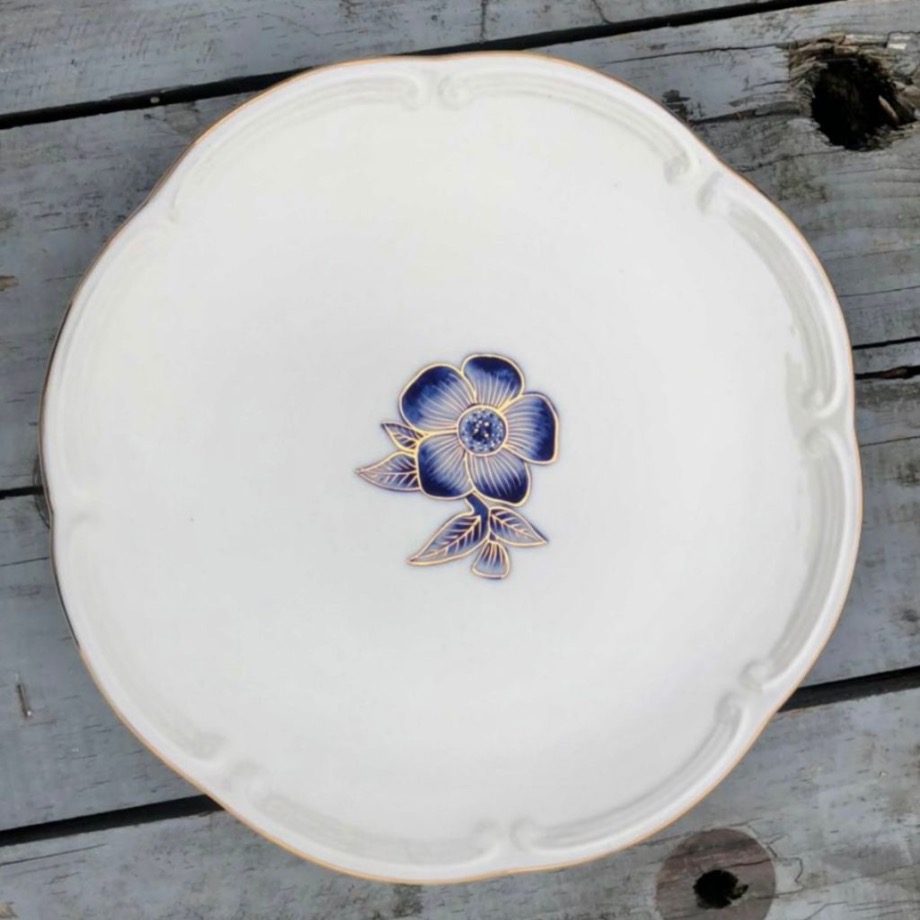 Votre snippet dynamique sera affiché ici... Ce message s'affiche parce que vous n'avez pas défini le filtre et le modèle à utiliser.