Hand-painted porcelain vase "Volutes" - 1.5 L - Exceptional Craftsmanship -
Hand-painted porcelain vase "Volutes" - 1.5 L - Exceptional Craftsmanship -
Material: High-quality Porcelain
Technique: Hand-painted
Dimensions: Height 21cm, Width 15cm
Colors: White with hand-painted motifs in blue, red, and green
Style: Modern and elegant
Large vase
Hand-painted porcelain on both sides
Unique piece
Capacity 1.5 L
Enamel finish
Weight 880 grams

Add a touch of elegance and sophistication to your interior with this beautiful hand-painted porcelain vase. Each piece is unique and made by experienced artisans, making it a valuable collectible item.

This vase is perfect for displaying your favorite flowers or as a decorative item in your living room, office, or bedroom.

Exceptional craftsmanship: Each vase is handcrafted by experienced artisans, making it a one-of-a-kind piece.
Impeccable quality: We use only high-quality materials to ensure the durability and beauty of our products.
A collectible item: This hand-painted porcelain vase is a true collectible item for art and decoration enthusiasts.

The Maison Manoï emblem is affixed to the back of each of our models, as well as the signature of the Painter.

This collection was created by our Painter in the bucolic setting of the Bugey province. These designs invite you to escape and inspire infinite softness and a certain poetry.

A beautiful idea for a handmade gift to embellish your interior.
An original porcelain tableware item.

The hand-painted motifs under glaze provide a slight relief, each piece is unique.
The imperfect grain of the material provides a unique and singular charm to each of our creations.
Ajoutez une touche d'élégance et de sophistication à votre intérieur avec ce magnifique vase en porcelaine peint à la main. Chaque pièce est unique et réalisée par des artisans expérimentés, ce qui en fait un objet de collection précieux.

Ce vase est idéal pour mettre en valeur vos fleurs préférées ou pour être utilisé comme objet de décoration dans votre salon, votre bureau ou votre chambre à coucher.

Un artisanat d'exception : Chaque vase est réalisé à la main par des artisans expérimentés, ce qui en fait une pièce unique.
Une qualité irréprochable : Nous utilisons uniquement des matériaux de haute qualité pour assurer la durabilité et la beauté de nos produits.
Un objet de collection : Ce vase en porcelaine peint à la main est un véritable objet de collection pour les amateurs d'art et de décoration.

Le blason Maison Manoï est apposé au dos de chacun de nos modèles ainsi que la signature de l'Artiste Peintre.

Cette collection a été créée par notre Artiste Peintre dans le cadre bucolique de la province du Bugey. Ces décors invitent à l'évasion ils inspirent une infinie douceur et une certaine poésie.

Une belle idée de cadeau artisanal pour embellir votre intérieur.
Un objet de table original en porcelaine.

Les décors peints mains sous glaçure procurent un léger relief, chaque pièce est unique.
Le grain imparfait de la matière procure un charme unique et singulier à chacune de nos créations.
Un service client à votre écoute
Livraison gratuite en France à partir de 100 euros d'achat !
Offrez-vous une pièce d'artisanat unique avec ce vase artisanal peint à la main. Réalisé à la main avec une technique de peinture à main levée, ce vase ne passera pas inaperçu dans votre maison. Chaque vase est peint à l'aide de pinceaux très précis, ce qui donne à chaque motif une sophistication unique. Fabriqués à la main avec de la porcelaine artisanale de haute qualité, ces vases s'adaptent à de nombreux styles de décoration et ajoutent une touche d'élégance à votre intérieur. Que ce soit pour vous-même ou pour offrir à quelqu'un que vous aimez, ce vase est un choix de cadeau parfait. Emballé dans un coffret cadeau Maison Manoï de grande qualité, ce vase artisanal peint à la main est prêt à être offert pour toute occasion spéciale.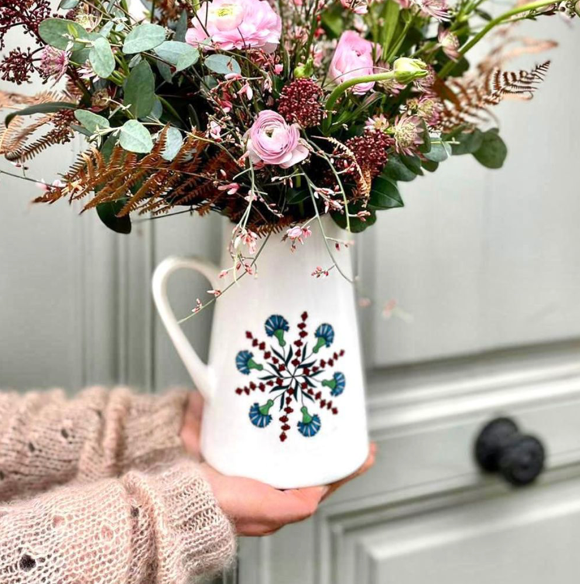 Votre snippet dynamique sera affiché ici... Ce message s'affiche parce que vous n'avez pas défini le filtre et le modèle à utiliser.