Our tailor-made creation service
in Limoges Porcelain


"We all have a story to tell"


Maison Manoï offers you a tailor-made service in white porcelain - IG Limoges designation - to tell your story.
Through your inspirations your universe.
Customization, support, creations & tailor-made table setting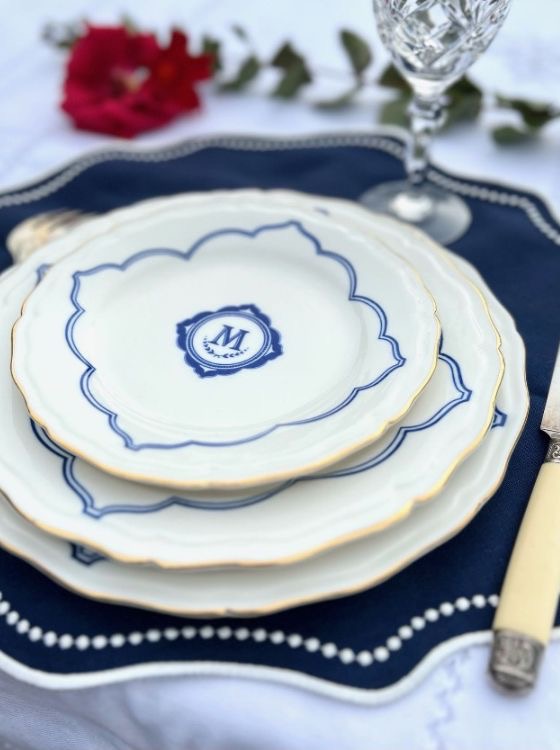 For professionals
Catering, hotels, tailor-made services for tasting clubs, event companies.
A tailor-made service for gastronomy professionals and chefs.

Maison Manoï offers you tailor-made creations based on your desires, we create your shape, we decorate the plate on high-end French porcelain.
From the small signature symbol of your establishment to the tailor-made decoration that will tell the story of your restaurant through decorations reproduced with a brush by our painter.
The possibilities are endless and our small team will accompany you on the way to creating an exclusive service that reflects your values ​​and your benchmarks to tell your story.

For individuals
Do you want to send a tailor-made table service bearing the image of your family?
An ideal gift, produced in an artisanal way on high quality French porcelain.

Maison Manoï offers you to make this exceptional service on top-of-the-range porcelain from the Limoges appellation.
Create your tailor-made service to represent your family through your distinctive signs.
Your Monogram that we will decline with our graphic team.
Honor your family by creating an exceptional table service on high quality French porcelain.
We will offer you a classic or modern design from our existing collections for Monograms services or from your family memories.
The decorations will be declined on a table service in Limoges porcelain which will symbolize your family and will be transmitted between generations.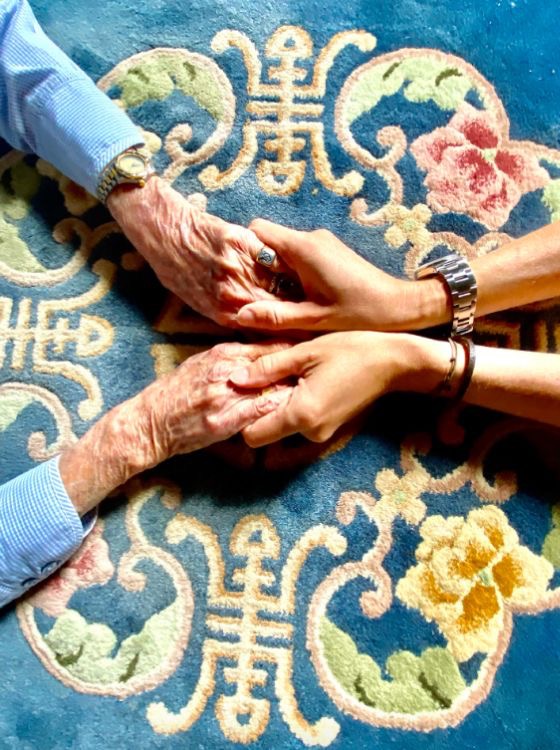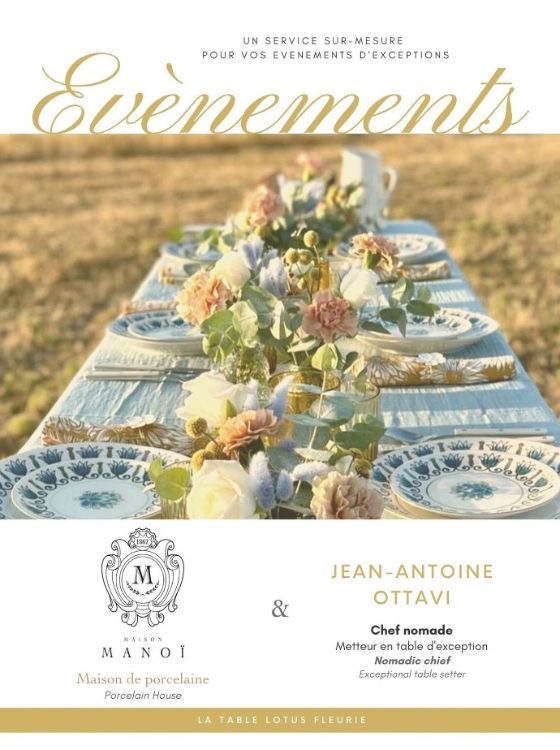 Tailor-made event service | Table setting
A tailor-made service, table setting by us with the possibility of taking the cooking service with a chef for an exceptional intimate dinner in the heart of nature at your home or in an exceptional place.

Maison Manoï in collaboration with chef Jean-Antoine Ottavi offers you exceptional service for an exceptional moment.
We offer you a tailor-made service to celebrate a particular event, from 6 people and up to several dozen.
We set your table and offer you an exceptional menu.
The chef specializes in dinners in the great outdoors, the service is minute at the table.
On magical tables with scenography created by him with Maison Manoï creations.
A unique private dinner ? An unusual intimate lunch ?
Crockery for high-end catering, for hotel professionals or for individuals who would like to create an exceptional service to honor a name, a family, through a table service.
We offer you a tailor-made service.

Tableware is at the heart of our brand, tableware professionals ask us for tailor-made creations bearing the image of their establishment.
Unique offer tailor-made creation with your letters your colors hand made in Limoges to create a unique family tableware service.
An exceptional creation with the protected GI mention Porcelaine de Limoges which can be passed on from generation to generation.
For any question or quote request, contact-us !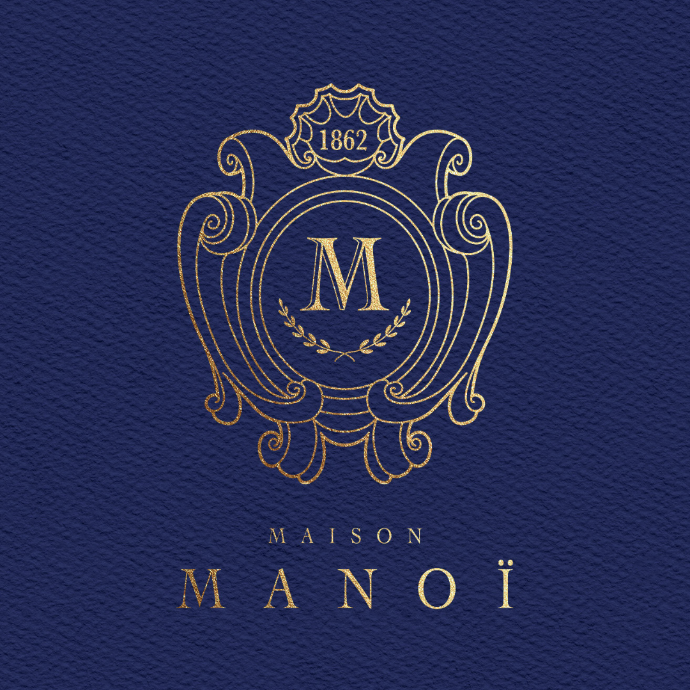 Coat of arms
Originally a sign of family recognition, the coat of arms has mainly been used since the Middle Ages.
The coat of arms responds to a certain number of heraldic rules which allow it, through a design, to be a representation of the values and attachments that the family carries.
Monogram
A monogram is an emblem that combines several letters into a single symbol.
It makes it possible to represent a family, a union, an event through an emblem that will stand the test of time.
With the help of our graphic designers, we can assist you in creating the Monogram that suits you and that will enhance your tableware.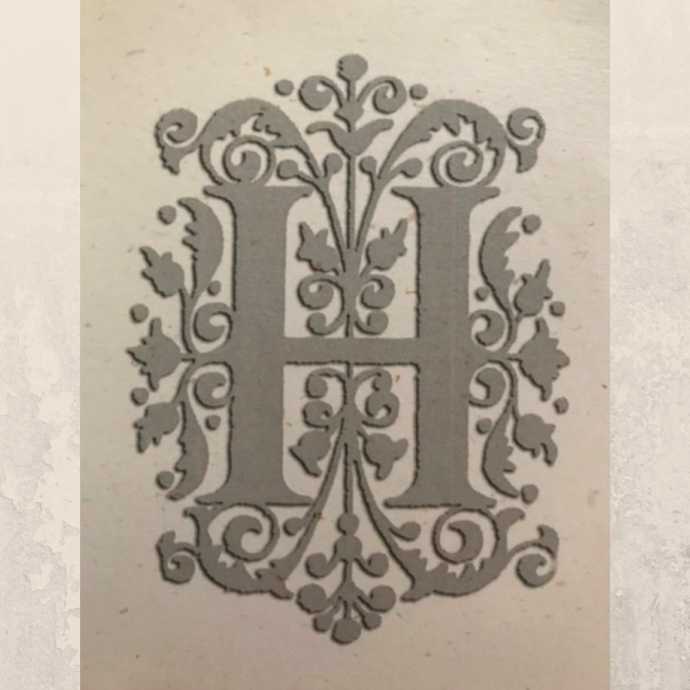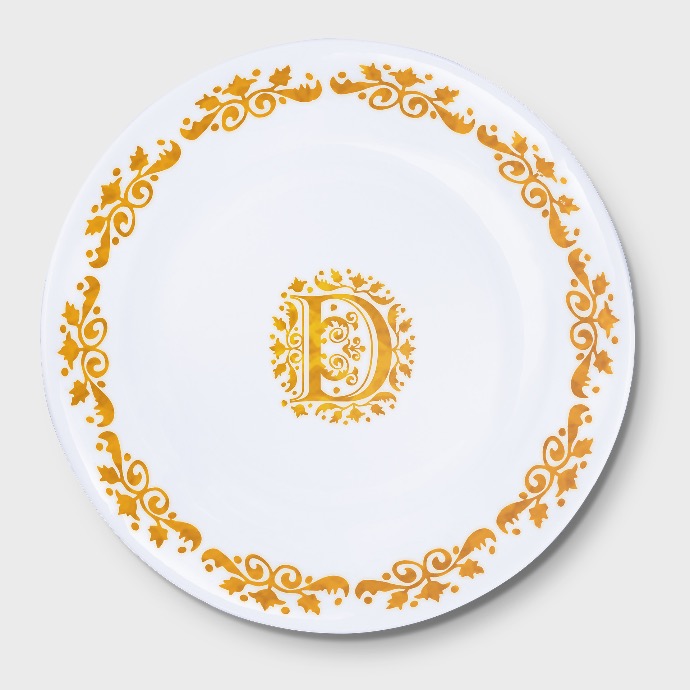 Colors
In collaboration with our Limogeaud craftsmen, we can create tableware entirely in your colours.
Monochrome or polychrome, give free rein to your desires.
A family to honor
Pay homage to your family by owning dishes that you will be the guardians of for future generations.
A restaurant to personalize
Create your personalized tableware to dress the most beautiful plates in your restaurant.
A wedding to sublimate
A wedding can be the most important day of your life, treat yourself to personalized dinnerware.
Immortalize your event
Whether it be religious, personal or professional, let us help you immortalize the moment with your own tableware creations.
Maison Manoï

Luxury tableware porcelain Limoges




Maison Manoï

SAS Manoï

20 Rue Raze

Bordeaux

(33000 - FRANCE)

+33 (0)

756

803 688

contact@maisonmanoi.com