French Limoges porcelain plate "HOSTEL Limoges" ⌀ 22 cm - Elegant table decoration
French Limoges porcelain plate "HOSTEL Limoges" ⌀ 22 cm - Elegant table decoration
Limoges Porcelain
Coupe Shape
Golden brush-applied borders
Decorated by chromolithography
Diameter 22 cm
French Limoges porcelain plate
Classic and timeless design
Handcrafted by skilled artisans
Exceptional finesse and durability
Glazed finish
Packaging in Maison Manoï cardboard box.

Add a touch of sophistication to your table with our French Limoges porcelain plate. Handcrafted by talented artisans, this premium quality plate is adorned with a classic and timeless pattern. Perfect for special occasions or as a collectible piece.

Limoges porcelain is renowned for its finesse and durability, and this plate is no exception. With its elegant design and superior quality, this plate is the perfect choice for porcelain collectors, tableware enthusiasts, and people who appreciate quality objects.

Our French Limoges porcelain plate is perfect for special occasions such as formal dinners, weddings, birthdays, and other important events. It can also be used as a collectible piece for porcelain enthusiasts.

To maintain the beauty and durability of this French Limoges porcelain plate, it is recommended to hand wash it with a gentle detergent and warm water. Avoid using abrasive sponges or corrosive cleaning products.

This collection was created from a serigraphy made by one of my ancestors in 1862. The six intertwined letters H O S T E L form a unique and singular decoration.

This collection is available for pre-order and is currently being made in Limoges. The prestigious IG Limoges appellation is affixed to the back of each of our creations.

The Maison Manoï coat of arms is affixed to the back of each of our models, as well as the signature of the Artist Painter.

Pre-order your French Limoges porcelain plate now and add a touch of elegance to your table.

This product is sold as a set of two plates, the price indicated is for one plate.
Ajoutez une touche de sophistication à votre table avec notre assiette en porcelaine de Limoges française. Fabriquée à la main par des artisans talentueux, cette assiette de qualité supérieure est ornée d'un motif classique et intemporel. Parfait pour les occasions spéciales ou comme pièce de collection.
La porcelaine de Limoges est réputée pour sa finesse et sa durabilité, et cette assiette ne fait pas exception. Avec son design élégant et sa qualité supérieure, cette assiette est le choix parfait pour les collectionneurs de porcelaine, les amateurs d'art de la table et les personnes qui apprécient les objets de qualité.
Notre assiette en porcelaine de Limoges française est parfaite pour les occasions spéciales telles que les dîners formels, les mariages, les anniversaires et autres événements importants. Elle peut également être utilisée comme pièce de collection pour les amateurs de porcelaine.
Pour maintenir la beauté et la durabilité de cette assiette en porcelaine de Limoges française, il est recommandé de la laver à la main avec un détergent doux et de l'eau tiède. Évitez d'utiliser des éponges abrasives ou des produits de nettoyage corrosifs. Cette collection a été réalisée à partir d'une sérigraphie réalisée par un de mes ancêtres en 1862. Les 6 lettres H O S T E L entrelacées forment un décor singulier unique.
Cette collection est disponible en pré commande elle est en cours de réalisation à Limoges. La prestigieuse appellation IG Limoges est apposée au dos de chacune de nos créations.
Le blason Maison Manoï est apposé au dos de chacun de nos modèles ainsi que la signature de l'Artiste Peintre.
Précommandez maintenant votre assiette en porcelaine de Limoges française et ajoutez une touche d'élégance à votre table.
Ce produit est vendu par set de deux assiettes le prix est indiqué pour une assiette.
Un service client à votre écoute
Livraison gratuite en France à partir de 100 euros
Découvrez notre collection de vaisselle moderne en porcelaine française appellation Limoges, comprenant notre petite assiette plate de forme coupe de la collection « Hostel » Maison Manoï. Cette assiette en porcelaine de grande qualité est 100% française, réalisée à Limoges, appellation IG protégée. Elle s'intègre parfaitement à votre vaisselle traditionnelle française et possède un charme unique grâce à son décor singulier. Certifié Limoges, ce décor est une véritable expression de l'art de la porcelaine française. La Maison Manoï propose ce set de deux pièces, emballé dans un carton écoresponsable fabriqué en France. Offrez à votre table une touche d'originalité avec notre assiette Maison Manoï de la collection Hostel, une pièce de vaisselle haut de gamme en porcelaine de Limoges française.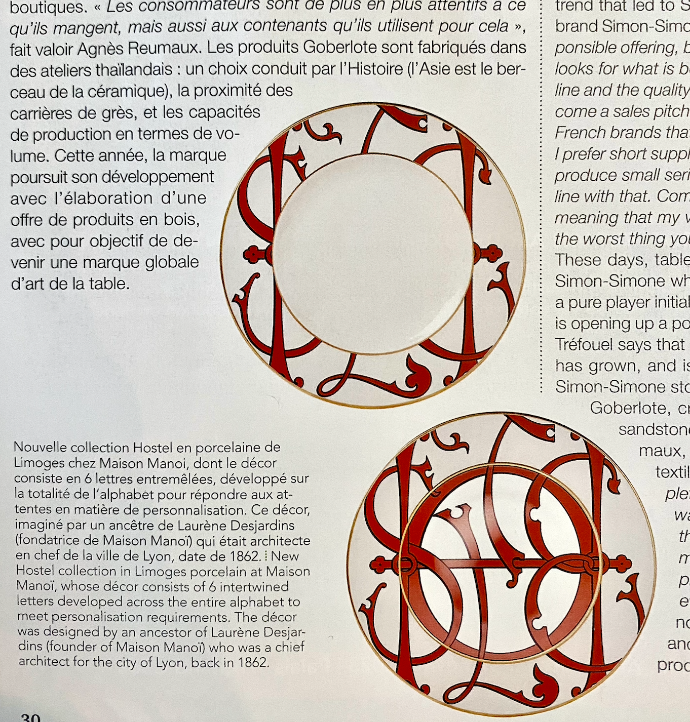 Votre snippet dynamique sera affiché ici... Ce message s'affiche parce que vous n'avez pas défini le filtre et le modèle à utiliser.